The Getaway: High Speed II
Kick Out Saucer, Shooter Eject and Target Bank Protectors
(click pics to enlarge)
The Getaway is a fast, fun Steve Ritchie designed game that takes quite a beating. Thanks to Karl Van Brocklin we now have a protector to cover damage at this area. Karl helped with much pics, testing and templates. Thanks Karl, Julian S, Brian P, Jan Svach and Kevin Densham for starting the whole ball rolling :)


The full protector sets shown here with and without my enhanced flipper guides. Just beautiful!


Kevins kickout wear. Pretty bad yet I've seen worse! Epoxy putty repair will give a solid surface for the protector


The kickout protector! Beautiful Hyperthin spring stainless :)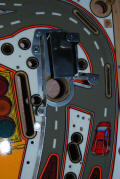 As installed on Karl and Kim's games. Fully protected and looks fantastic!


The shooter eject installed- no more nasty divot here!


Mirror finish 3-bank pop bumper target cover! Installed on Julian S. game- beauty!



Jan Svach helped me create this mirror finish ramp target cover and shows it off on his game
Complete your performance tune-up with a new set of my enhanced flipper guides for $20!
If you want to keep your High Speed II looking and playing at top performance you need Cliffy's™ in your shop!
Only $20 for the kickout, $10 shooter eject, $12 pop target bank, $8 ramp target bank or $45 for the 4pc set, $65 the 6 piece set with guides!
Click HERE to email me and order yours! (will open your system default email client)
USPS 1st class and Priority Mail shipping options available. I always combine shipping to save you money!
California residents please add sales tax