Magnet and Bicycle Girl Ramp Playfield Protectors!
Stern Pinball's™ The Walking Dead is flesh eating fun! Tear off your own face so you can enjoy it twice!
Protect your investment with Cliffy's Hyperthin stainless and carbon fiber! The new Carbon Fiber magnet protectors won't curl and lift even after years of bashing. Thanks to Adam Fowler, Ted Rusniak and Chris Heffner for all the help and testing
(Click pics to enlarge!)
The Prison and Well Walker Magnet Protector Rings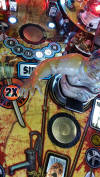 Installed and looking great! Adams install tip: Raise the magnet core to aid in aligning the ring
Bicycle Girl Ramp Playfield Protector
Install under the existing posts and under the ramp to save your playfield from the ramp drop!


Multi-Fit Shooter Lane Protector Kit
Includes from left to right; main shooter eject, right side under rail strip and Cliffy's *awesome* new Rail Guard™


Cliffy's Rail Guard™ incorporates the factory bubble level for a beautiful factory appearance and the ultimate rail protection!
Don't let walkers eat your playfield! This is the best possible protection for your game!
Only $30 for a pair of carbon fiber magnet protector rings, $8.50 for the bicycle girl under ramp protector, $25 for the 3 piece Stern Multifit Eject Kit (includes left and right shooter ejects and Rail Guard™) or $60 for the full set!
Click HERE to email for order info
Shipped first class via USPS. If Priority Mail desired please specify at time of order. I always combine shipping to save you money!
California residents please add 8.5% sales tax.