William's White Water
Upper playfield VUK, Disaster Drop Ramp, Shooter Eject and Boulder Protectors
(click pics to enlarge)
Very fun game full of ramps and molded plastics to simulate a white water rafting experience complete with... Bigfoot!
Unfortunately the Disaster Drop ramp entrance and molded boulder plastics get severe damage from flying balls. Fortunately the boulders have been reproduced so get some protection under those rocks to prevent them getting destroyed again! Thanks to Eric Johnson and his template skills we have a set ready to hit the white water and keep you protected!

My new Disaster Drop ramp protector is vastly improved over the factory piece with fuller coverage and a wrap-around to cover the exposed ramp entrance. Perfect protection and coverage but also works perfectly in combination with Mantis Amusements target protector!
Finally, there is the vertical up-kicker (VUK) ball drop on the mini playfield that takes a nasty hit usually resulting in a divot in the wood deep enough to trap the ball. My protector plate solves this problem nicely and restores game play. No more shaking the game to free a stuck ball!
BOULDERS

Here are the boulder protectors. Simple, elegant and tough 22 gauge stainless steel!



Installed on Eric's game. Look closely! They stick out just enough to take the ball hits instead of the plastic.
DISASTER DROP RAMP-LEFT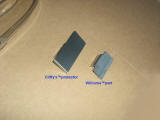 My Disaster Drop left side ramp protector versus the factory part. They called that wimpy thing a protector? HA! Installed pics below


NICE!

and shown with Mantis' target protector installed. Thanks to Tony Dziedzic for pics!
DISASTER DROP RAMP- RIGHT




I now make a replacement for the right side DD ramp ball guide/protector. Often missing as the factory part would be snapped off at the lower mount tab (thanks Nate Goett!) This piece is NOT a default part of my WH20 set so if needed make sure to ask specifically for it
VUK DROP PLATE

And here's the upper playfield VUK drop protector! Put this beauty on and no more balls stuck in the inevitable divot. Huge thanks to Robert Campbell, Brad Grant and Steve Mavrelos. Let's see how it installs on Steve's game;

Typical divot, even with mylar present.

WOW! That looks great!

A smoooth transition from the ramp.

Reverse angle view

Even Bigfoot likes it! The best practice is to fill any existing divot with an epoxy putty like Quick Wood™
This will prevent the protector getting dented into the divot over time
SHOOTER EJECT


Complete the protection package with my shooter eject protector shown installed on Nick G's game.
The full set includes the boulders, VUK drop plate, left DD ramp and shooter eject - only $54! If needed the right side DD ramp guide is $15 and $20 for the VUK plate if desired separately. Click HERE to email me about a set for your next White Water rafting trip today!

Shipped first class via USPS. If Priority Mail desired please enquire at time of order. I always combine shipping to save you money!
California residents please add sales tax