Playfield Protectors and Enhanced No-Hop Flipper Guides!
Williams Electronics™ first talking pinball, Gorgar, was an instant hit with simple but fun and challenging game play. It certainly deserves it's place in pinball history and deserves preservation. Cliffy's™ brings a protector set and enhanced flipper guides to help preserve your Gorgar!

The complete Cliffy's™ Gorgar protector set

The left kickout protector fits both the original Gorgar playfield as well as Mirco's (High Class Pinballs) new reproduction playfield.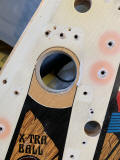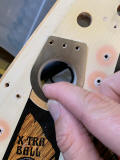 Mike Payne shows the protector fit on his original playfield. Perfect.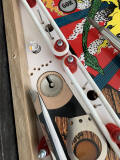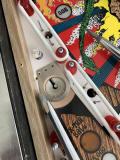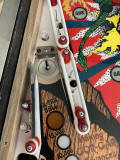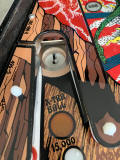 Here Mike shows installing on his repro playfield. If the deflector mount holes are off the protector is a perfect template for marking correct screw hole placement as Mike has done here. You might hurt Gorgar as you beat him but you won't hurt the kickout with Cliffy's™ protector installed!

Cliffy's™ enhanced flipper guides!
Below Mike shows a closeup of a guide installed. Also with and without the plastics. Note the smoooooth ball roll line to the flipper!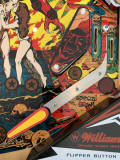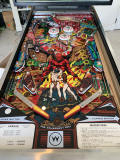 No ball hop on this Gorgar!

The shooter eject set!
Huge thanks to Mike Payne and Travis Holcomb for all the help with templates, measuring and test fitting- and all the nice pics you see here.
Protect your classic Gorgar! Only $13 for the kickout protector, $15 for the ejects and $20 for the pair of enhanced no-hop flipper guides

Click here to email Cliffy's for order info! (will open your system default email program)

Shipping cost not included in prices. Shipped via USPS or GlobalPost
California residents must pay sales tax