Twilight Zone
Playfield Protectors and more!
(click thumbnails for bigger pics)
An instant classic by Bally and one of Cliffy's absolute favorites. Twilight Zone didn't do so well on route, likely due to its complexity of play and finicky features that drove operators and route techs crazy. However it found a second life in the home market and is prized among pinball collectors around the world. Twilight Zone is well worth protecting and Cliffy's™ has you covered!

Cliffy's™ complete Twilight Zone protector set!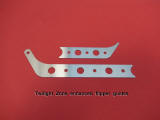 Cliffy's™ enhanced No-Hop™ flipper guides!
Slot Machine scoop protector installed in Martin Reynolds game


Thanks to Dale Wozniarski we have a step by step pictorial on how they are installed. First, the slot scoop. Pics are named so hover mouse over pics











Reinstall guides, plastics, posts and ramp and that's it!
Gumball hole edge protector- Thanks to Jason Tobias for his help on this one





Remove scoop, snap protector in place, reinstall the scoop and you're ready to play!
Rocket Kicker slot protector. Ric Turner provided the pics below and thanks to Steve Sachs for his encouragement


Damaged area cleaned with alcohol


Peel film & tape backing & install!


Mini playfield (Power) edge protectors. Let's see what they look like on John White's game




Before...

After!




Wow! What a nice, clean look and no more splintered wood or smashed wires!
Shooter Eject



Add a shooter eject protector! Cover up that chipped hole edge and prevent future wear
Switch Slot



Don't forget your switch slots, especially where there are ball drops!
Outhole Drain


Rob Bell shows the outhole drain installed here- nicely done!
Enhanced No-Hop™ flipper guides. Incredibly smooth ball roll and FAST play action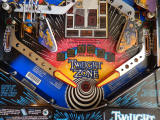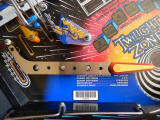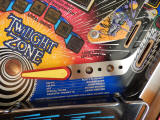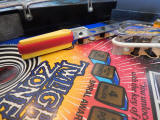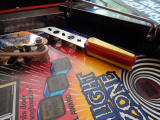 Now with video proof!

Keep your Twilight Zone looking and playing great! Only $120 for the complete protector set! Add $20 for my enhanced flipper guides
Click HERE to email me and order yours! (will open your system default email program)
Shipping cost not included in prices. USPS 1st class and Priority Mail shipping options available.
California residents add sales tax