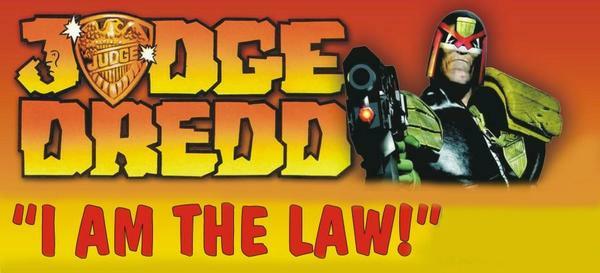 Judge Dredd Ramp and Ball Eject Protectors
Based on the British anthology comic, 2000 AD, Judge Dredd is a fast flowing, multiball pumping, technological wonder. All that ball speed really smacks the ramps around and the right side of the main ramp usually gets snapped off where it attaches at the end. My own game had this issue so I made a patcher to tie the ramp back together and make it much more durable. I sent a kit to Kevin Strasser for test fitting and he sent some great pics back. Here we go-

Here's the broken end of Kevin's ramp. They darn near all get broken here. A previous owner tried gluing it with awful yellowed epoxy, it seems. As you can see the glue isn't working either. Ugh.


This is the ramp path kit I sent to Kevin. I include the 5-40 stainless button head screws and locknuts. These have a rivet-like appearance but are easier to install.
If you wish to use rivets instead you can do that too as the laser cut holes in my patcher are 1/8", same as most rivets used in pins. The screws are above and below the pinball's centerline so do not deflect the ball.

First, he places the patcher behind the ramp and installs the top screw to the metal loop holding the ramp together with the patcher. This gives a stable platform for drilling the side holes.
Using a 1/8" bit in a cordless drill he drills *only* the topmost screw hole first.


Once the hole is drilled he then installs a button head screw and locknut using a 1/8" allen wrench and a 1/4" nut driver. He can now drill the other two holes knowing they will not move.


All secure after installing the remaining screws and nuts. Looks good, Kevin! Well, the patcher does at least :)




Finished and much stronger now! Thanks, Kevin!
I've also made a ball eject protector that covers the typical hammered, and often blackened, area where the ball gets kicked into the shooter lane. I developed this on my own Dredd pictured here.


Two pics, the first showing my prototype, the second is production. I slotted the mount holes to allow fine adjustments for perfect alignment.

Typical divot and blackening at the eject. A Magic Eraser (tm) and alcohol may remove most of the black stains but we still have the divot to deal with.
If the divot is deep you'll need to fill it with an epoxy putty like Quick Wood (tm) or the protector will get hammered into the damage as well. On my game the divot is not deep enough to worry about.


Again, here is my game with the proto installed. I make these in my Hyperthin spring stainless. Very thin, very tough, very pretty when compared to a black divot :)
Ready to get your Judge Dredd back in action? Click HERE to get your ramp patch kit or eject protector. Only $25 for the ramp kit or $8 for the ball eject protector or $30 for both
Shipped first class via USPS. If Priority Mail desired in the US please specify at time of order. I always combine shipping to save you money!
California residents must add sales tax