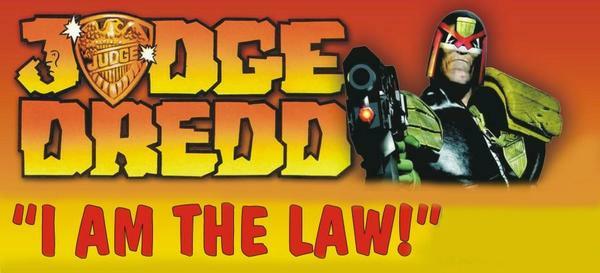 Judge Dredd Ramp and Playfield Protectors
Based on the British anthology comic, 2000 AD, Judge Dredd is a fast flowing, multiball pumping, technological wonder. All that ball speed really smacks the ramps around and the right side of the main ramp usually gets snapped off where it attaches at the end. My own game had this issue so I made a patcher to tie the ramp back together and make it much more durable. I sent a kit to Kevin Strasser for test fitting and he sent some great pics back. I've also been able to tackle the JUDGE subway scoop as well as the usual shooter ejects, switch slots and drain. Here we go-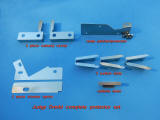 Cliffy's™ full protector set for Judge Dredd! Let's start with the ramp...
Ramp Exit


Here's the broken end of Kevin's ramp. They darn near all get broken here. A previous owner tried gluing it with awful yellowed epoxy, it seems. As you can see the glue isn't working either. Ugh.


This is the ramp patch kit I sent to Kevin. I include the 5-40 stainless button head screws and locknuts. These have a rivet-like appearance but are easier to install. If you wish to use rivets instead you can do that too as the laser cut holes in my patcher are 1/8", same as most rivets used in pins. The screws are above and below the pinball's centerline so do not deflect the ball.

Places the patcher behind the ramp and install the top screw to the metal loop holding the ramp together with the patcher. This gives a stable platform for drilling the side holes. Use a 1/8" bit in a cordless drill. Drill *only* the topmost screw hole first. You can also use a soldering pencil to melt the holes. This makes for a stronger hole but will leave excess plastic you'll need to shave off


Install a button head screw and locknut using a 1/8" allen wrench and a 1/4" nut driver. Now drill the other two holes.


All secure after installing the remaining screws and nuts. Looks good, Kevin!




Finished and much stronger now! I recommend adding this to new or unbroken ramps to eliminate the chance of it breaking in the future
Subway scoop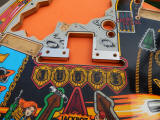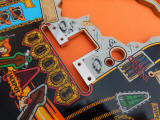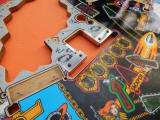 Some tricky bends to make these but, my, how nice they look in place!
Switch slots at the ramp drops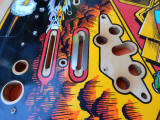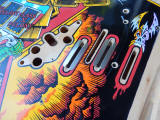 One at the left lane and two on the right- beauty!
Shooter ejects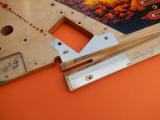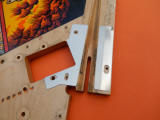 Much better than the typical divot and blackening usually seen here.
Outhole drain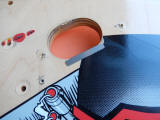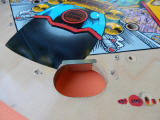 My universal single bank protector fits these oddball smaller drains as seen here
Ready to get your Judge Dredd back in action?
Only $22 for the ramp kit or $28 for the 2pc subway protectors or $115 for the full set
Click HERE to email me and order yours today! (will open your system default email program)
Shipping cost not included. Shipped first class via USPS or GlobalPost
California residents must add sales tax