The Hobbit Pinball Protector Set
Don't let playfield wear stop your epic journey! Cliffy's™ protector set will keep your Hobbit looking and playing great through the ages of elf and man!
(Click pics to enlarge!)
Cliffy's™ Hobbit Protector Set
Balin and Radagast Kickout Protectors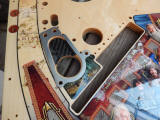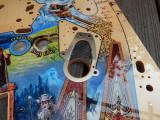 now with carbon fiber inserts!
The Balin and Radagast kickouts can take a beating. Install Cliffy's™ protectors to keep them looking like new.
Smaug Drop Protector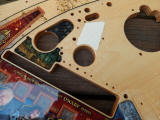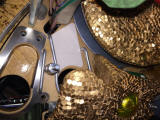 Smaug may love gold but he could care less about your playfield.
Cliffy's™ Smaug Drop protector is laser cut 5 mil mylar to stop this cold! NOTE: White backing is removed in normal installation but shown here for clarity.
Shooter Eject Protectors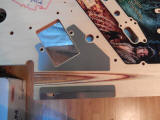 A game this good is going to get played a lot! Installation guide here
Outhole Drain Protector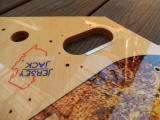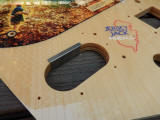 All those balls end up here eventually! Installation guide here
Installation note:
Where my protectors use 3M tapes on the back please clean all wax from the area with wax remover like Naphtha or a strong citrus solvent. Then, right when you are ready to install the protector, wipe the taped area of the playfield (not the protector!) with the alcohol swab I always include (3M Activator stamped on the swab). It's a simple 70% isopropyl (rubbing) alcohol. Immediately after the alcohol evaporates peel the 3M adhesive backing and install the protector pressing down as hard as you can and if possible rubbing down hard with a soft cloth. 3M acrylic adhesives are activated by both alcohol and pressure and reach maximum cure in 24 hours.
Only $76 for the full set of Hobbit protectors with carbon fiber inserts and laser cut mylar
Click HERE to email for order info (will open your system default email program)
Shipping cost not included in prices. Shipped first class via USPS or GlobalPost
California residents must add sales tax