The Addams Family
Playfield and Ramp Protectors
(Click the thumbnails to enlarge)

We all know the wear that occurs at the scoop holes and ramps on Addams Family. It was an instant classic for Bally / Williams and got played to death on location!
Whether you're an operator looking to keep your money maker out on route and earning or a collector who wants to beautify and protect your new investment, you need protection.
Don't settle for less than anything than the best! Cliffy's™ are not only the first but also the finest premium protectors in the world!
Thanks to Michael Paul, Rob Bell, Eric Johnson, Chris in NH & Adam Fowler for testing, templates and pics!


The Electric Chair $25

The Vault $15

The Swamp Eject $20

The Swamp Set $60

The Complete Playfield Set - Swamp set, Chair & Vault $90

Example of extended versions of the swamp eject and vault protectors. Covers more wear!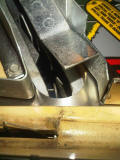 Get a shooter eject protector for $10
The Ramp Protectors - $50 Shown installed on Adam's Addams - Please excuse the awesome reflections :)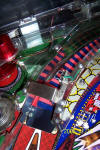 By popular demand I now make the Bear Kick ramp protector available on it's own!


Only $15 to replace that often broken or missing 01-10697 Bear Kick Ramp protector. Much stronger than the factory piece!

Get your Addams armor plated with full protection! Click HERE to email for order info! Chair scoop, Vault and Swamp extended versions same price as standard.
Shipped first class via USPS. If Priority Mail desired in the US please enquire at time of order. I always combine shipping to save you money!
California residents please add sales tax