PLAYFIELD PROTECTORS!
Stern Pinball™ ROCKS with another great Steve Ritchie designed pinball - AC/DC!
Protect your investment and keep it looking great with an infusion of metal!. HUGE thanks to my testers and helpers, Fulltilt, Leon and Mike O'Brien
The Protectors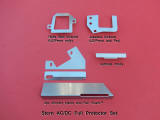 Cliffy's™ full protection kit for AC/DC
Hells Bell Kickout Protector



For LE/Premiums. Shown installed here- NICE!
The Jukebox Kickout Protector



For Pro and LE/Premiums. Click toolbox for installation guide!
Shooter Eject Protectors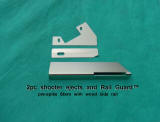 Install guide for shooter ejects here
Outhole Drain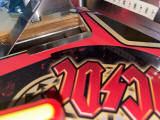 Drew shows the drain installed. Guide available here
Hell's Bells this is the best possible protection for YOUR AC/DC pinball!
Only $78 for the full LE/PREMIUM set or $56 for the full Pro version
Click HERE to email for order info (will open your system default email program)
Shipping cost not included. Shipped first class via USPS or GlobalPost
California residents must add sales tax